A Municipal Fleet Like You
33
Systems
77,845
Estimated Savings Over 1 Year
Autogas Fleets for Municipalities Make Sense
Autogas is an ideal fuel for municipality fleets because it's dependable, cost-effective and won't affect vehicle performance. With the Alliance AutoGas Engineered bi-fuel system, drivers have increased vehicle range because the system automatically reverts to gasoline if the autogas tank runs out. Also, this versatile system can be switched from retiring vehicles to newer models with very little cost or vehicle downtime.
"This program is running effectively and efficiently, saving our County money, supporting our efforts to be a 'clean fleet' and assisting us to be excellent stewards of the environment." -Jeff Jeter, Department of General Services in Chesterfield County, VA
"Cost savings is the single greatest benefit of autogas." –Lt Bob Berndt of LA Crosse Police Department
"The cost per gallon of propane is significantly lower than heating oil and is typically lower than gasoline. This is extremely important as our funds are very limited." –Debbie Northrop of Blue Ridge Parkway
"The argument for more propane autogas vehicles had to start with quantifiable savings, and fortunately, it was an easy story to tell." -Steve Hightower, City of Kingsport Fleet Maintenance Manager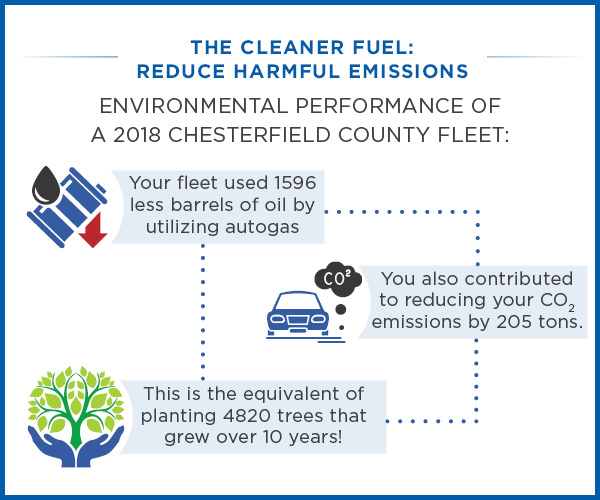 Vehicle Systems Your Fleet May Use
The Alliance AutoGas Engineered Systems can be installed on multiple vehicle platforms, offering fleets the benefit of using clean-burning autogas on their existing vehicles. The systems are certified by the Environmental Protection Agency (EPA), ensuring they meet the most current emission standards. Our systems additionally provide the benefit of greatly reduced emissions compared to gasoline or diesel.