A Service & Utility Fleet Like You
99,779
Estimated Savings Over 1 Year
Service and Utility Autogas Fleets Make Sense
Autogas is an ideal fuel for service utility fleets because it's dependable, cost-effective and won't affect vehicle performance. Over a vehicle's lifetime, autogas is better for every line on the budget sheet because it is a clean-burning alternative fuel that doesn't require the same expensive repairs and replacement parts compared to other fuel vehicles. In addition, Alliance AutoGas infrastructure works with many fuel management systems. It integrates seamlessly with fuel management systems and back office software or we can provide you with our network solution – the Triton. Don't wait another year – now is the time to convert your fleet.
Alliance AutoGas has worked closely with service utility fleets to make their transition to autogas easy. Fleets such as Universal Engineering, Olympic Pool Plastering, Green's Blue Flame Gas, and Blossman Gas have saved thousands on fuel costs and made significant reductions in emissions by using the clean, fuel alternative – autogas. Fleets speak highlighly of the performance, reliability and ease of operating autogas vehicles.
For a free custom quote, call us at 228-215-0544.
"Frankly, we did not initially strive to cut down carbon emissions, but it became an important factor later on. Safety and a cleaner environment for the communities we serve is now a paramount reason why our vehicles run on autogas. Four years later, this is still the best choice I could have made." –Shaw Still, President and CEO of Olympic Pool Plastering
"It was an easy decision. My ultimate motivation to convert Universal Engineering Sciences vehicles to autogas was that it saves money, is good for the environment and is 100% domestically produced. All better than gasoline." –Seymour Israel, Founder of Universal Engineering Sciences
"The project has been focused on displacing diesel vehicles, knowing that the benefits would be tremendous cost savings and significant emissions reductions." -Eddie Waldrop, Blossman Gas Fleet Manager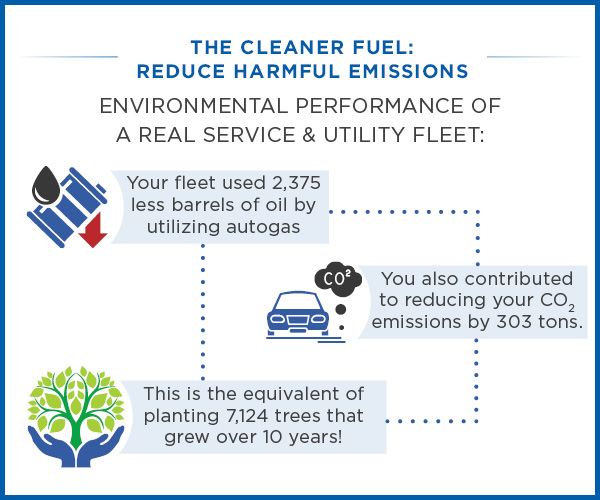 Vehicle Systems Your Fleet May Use
The Alliance AutoGas Engineered Systems can be installed on multiple vehicle platforms, offering fleets the benefit of using clean-burning autogas on their existing vehicles. The systems are certified by the Environmental Protection Agency (EPA), ensuring they meet the most current emission standards. Our systems additionally provide the benefit of greatly reduced emissions compared to gasoline or diesel.