A Taxi & Limo Fleet Like You
180
Systems
1,254,460
Estimated Savings Over 1 Year
Taxi & Limo Autogas Fleets Make Sense
Autogas is an ideal fuel for taxi and limo fleets because it's dependable, cost-effective and won't affect vehicle performance. With the Alliance AutoGas Engineered bi-fuel system, drivers have increased vehicle range because the system automatically reverts to gasoline if the autogas tank runs out. Since it is a clean-burning alternative fuel that substantially reduces greenhouse gases and other harmful emissions, converting your vehicles with Alliance AutoGas means your fleet will be green.
Alliance AutoGas has helped many taxi & limo fleets across the U.S. switch to autogas. Fleets such as Groome and Super Shuttle have saved thousands on fuel costs and made significant reductions in emissions by using the clean, fuel alternative – autogas. Fleet drivers say they love the performance, reliability and ease of operating autogas vehicles.
For a free custom quote, call us at 228-215-0544.
"The cabs not only run on propane, but if propane is unavailable they still run on gasoline. I thought that was very important seeing that the drivers get trips out of town or are just working hard and don't have time to refuel at the company's station." -Jeff Kates, Yellow Cab
"At first, it was an ethical and environmental question based on my desire to have a green company, back in 2012. With cleaner fuel for our vehicles, not only was it better for our environment, but engines were going to break down a lot less often. The real factor, though, in the decision to convert our vehicles to autogas, was financial. With gasoline at $4 per gallon and autogas at just above $2 per gallon, the cost differential was substantial. It was a no-brainer." -Sid Del Cardayre
"Once some of cabs and police departments switched to autogas, their peers started to see the advantages of running autogas in their fleets. That success lends itself to continued success. It's been around for a long time, but it received a boost in 2009, and now it's taking off." -Brian Feehan, PERC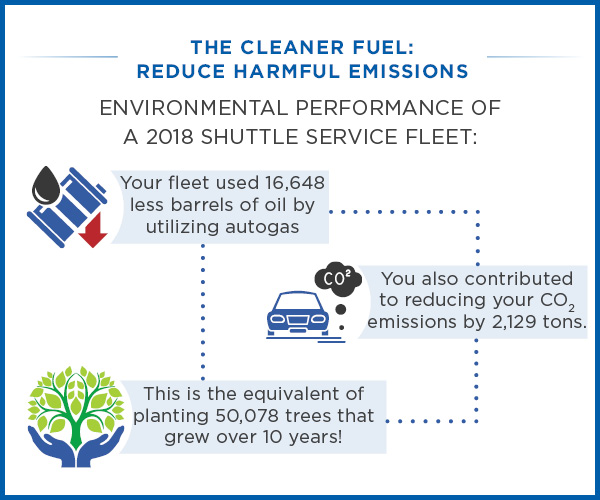 Vehicle Systems Your Fleet May Use
The Alliance AutoGas Engineered Systems can be installed on multiple vehicle platforms, offering fleets the benefit of using clean-burning autogas on their existing vehicles. The systems are certified by the Environmental Protection Agency (EPA), ensuring they meet the most current emission standards. Our systems additionally provide the benefit of greatly reduced emissions compared to gasoline or diesel.