A Safe Fuel
---
Autogas is a safe, proven and reliable fuel. Fleets across the U.S. are fueled by autogas, partly because autogas is intrinsically safer than many other fuels.
Autogas Tanks
Autogas tanks are 20 times as puncture-resistant as gasoline tanks and can withstand 4 times the pressure.
The lower pressure required for storage makes autogas safer to maintain than CNG.
Autogas vehicles tanks are constructed from carbon steel under code developed by the American Society of Mechanical Engineers.
Properly installed autogas vehicle fuel tanks can actually add to the structural integrity of a vehicle.
Additional Safety Features
Autogas has a lower flammability range than conventional gasoline, decreasing probability of accidental combustion.
Each onsite autogas fueling station has a lock-off valve that automatically shuts off the flow of propane autogas at the tank if any pressure drop is detected anywhere throughout the system.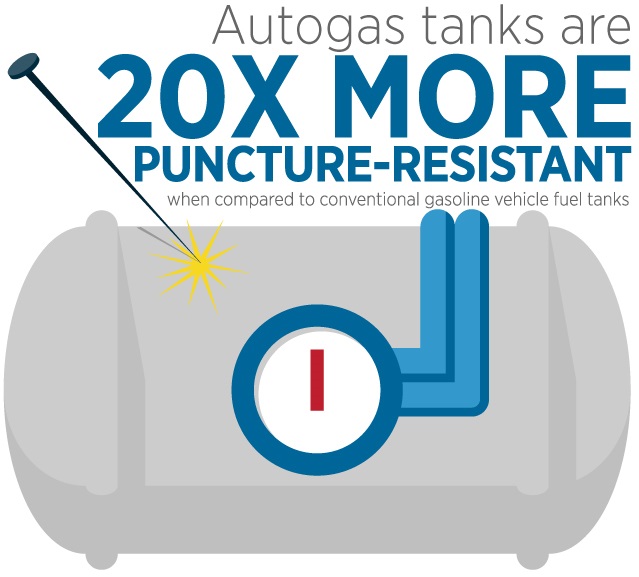 Nontoxic
Unlike gasoline, diesel, methanol and ethanol, autogas is nontoxic, nonpoisonous and soluble in water.
Should a rare accidental release of autogas occur, it would dissipate into the atmosphere with no harmful contaminants released into the air, soil or water.