Refueling Infrastructure
---
Adopting an alternative fuel shouldn't be a hassle. At Alliance AutoGas, we work with your fleet to assess your fuel needs. Depending on your fleet size and gallon usage, we can supply you with your own autogas refueling station at little cost or we will connect you with one of our autogas partners which are located nationwide. Ask about our refueling card which gives fleets access to the Alliance AutoGas refueling network – one of the largest nationwide.
Autogas fueling is easy with no-spill dispensing equipment that operates similar to a gasoline fuel pump. In addition, Alliance AutoGas infrastructure works with many fuel management systems.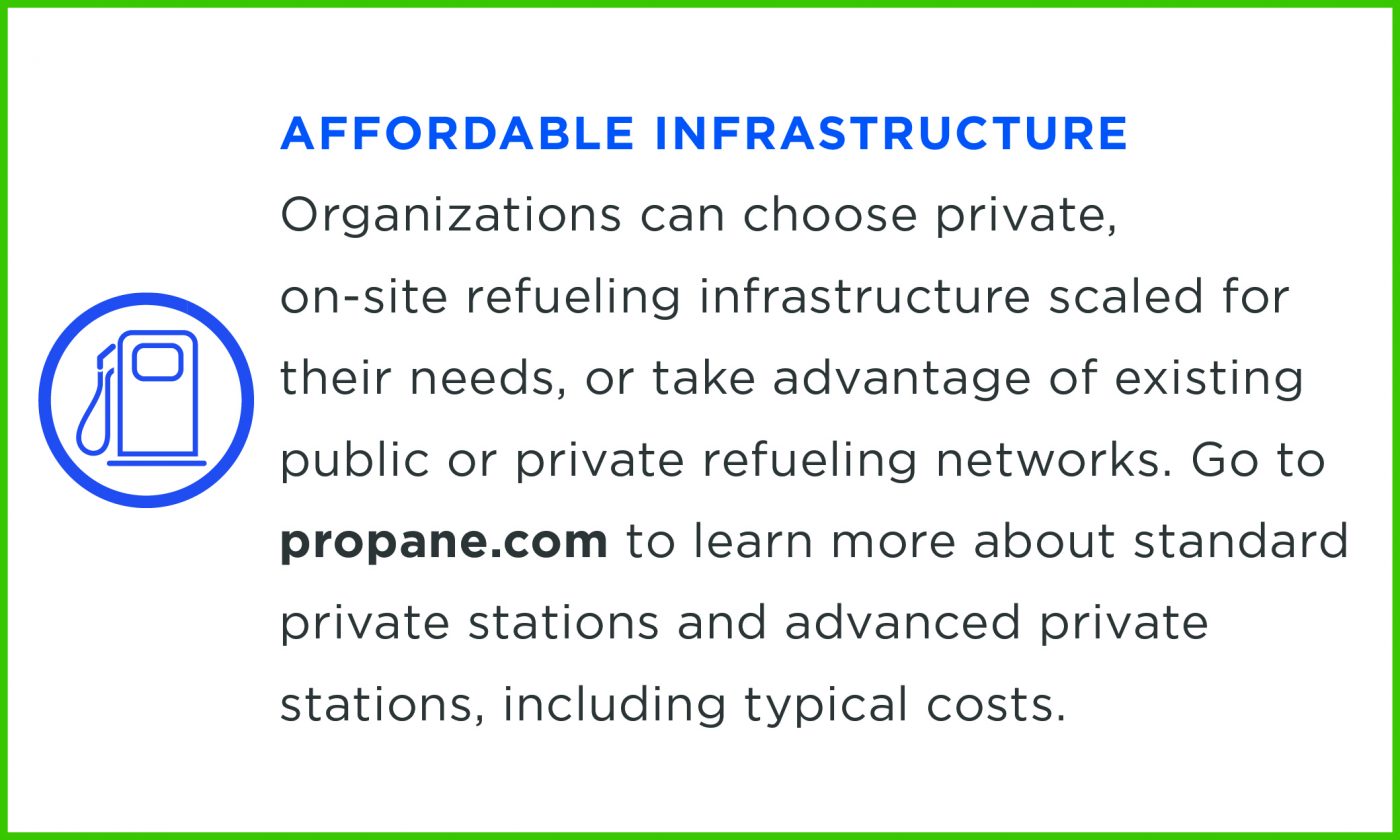 Benefits of our Data Integration and Fuel Management include:
The time required to fill an autogas vehicle is faster than for a gasoline vehicle, so your fleet can drive clean without requiring additional down-time for filling up.
Our fueling infrastructure integrates seamlessly with fuel management systems and your back office software.
Our stations are fully scalable to serve fleets of all sizes – as your autogas fleet grows, so can your autogas fueling station.
Stäubli Quick Connect, Ultra-low Emissions Nozzle
The Stäubli Nozzle is lightweight, ergonomic, and as easy to use as a standard gasoline nozzle. This UL Certified nozzle is the safest in the industry and requires no gloves or goggles for a positive refueling experience.
The Stäubli Nozzle:
Is compatible with the standardized EN 13760 connector that is present on the vehicle
Has UL Certification according to the UL 125 standard
Is easy to use: Just as simple to handle as a gasoline pump nozzle
The valve design allows effortless connection
The 360° swivel connection between the nozzle and the hose reduces the stresses due to hose rigidity
Nozzle weighs only 3.31 lbs
The inline connection principle rules out any handling errors, meaning totally safe operation

No gas can escape and no gas flow is possible unless the refueling nozzle is engaged in the connection piece
Incomplete locking is impossible
The nozzle is unlocked automatically when the trigger is release

Ultra-low emissions: 0.4 cc of product released compared to 1.9 cc for the typical Acme Low Emissions Nozzle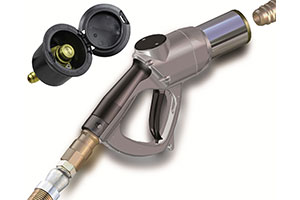 The Donaldson LPG Filter
Donaldson LPG filters are engineered to eliminate the potential for any fuel contamination issues with autogas fuel systems. The dual filter design can be tailored to fit a fleet's specific need, giving them a custom solution.
The Donaldson LPG Filter Features:
Highly efficient filtration of 4 µ @ β 2000
High-phosphorus nickel-plated steel providing corrosion resistance
Inline porting for easy installation
Common 1″ and 2″ NPTF female connections
Built-in drain plug for convenient servicing
Meets or exceeds NPGA 58 standards
LPG Dispensers up to 150 gpm