Alliance AutoGas Fueling National Parks – Carl Sandburg Home
[vc_row][vc_column][vc_column_text]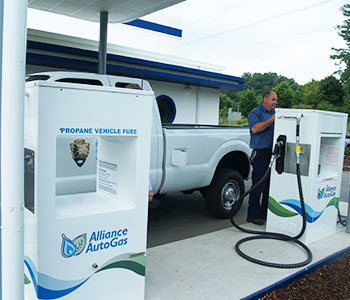 Each year since 1985, Americans have celebrated National Park and Recreation Month during July to recognize the important role parks have in establishing and maintaining a positive quality of life. Parks across the United States are contributing to the physical, economic, and environmental well-being of their local cities and towns.
As Park and Recreation Month is coming to an end, we would like to highlight one of our favorite parks (and autogas customers), the Carl Sandburg Home National Historic Site! Located in the village of Flat Rock, NC, this historic site preserves the home of the Pulitzer Prize-winning poet and writer, Carl Sandburg. The 264-acre site includes the Sandburg residence, a goat farm, rolling pastures, mountainside woods, 5 miles of hiking trails on moderate to steep terrain, two small lakes, several ponds, flower and vegetable gardens, and an apple orchard.
Alliance AutoGas (AAG) and the Carl Sandburg Home have had a partnership since December of 2018, when AAG converted two of their Ford F-150 trucks to run on autogas. The conversions took place at AAG's Research and Development Facility in Asheville, NC. In addition to the trucks, the historic site also has a propane-powered shuttle used to transport attendees on the property. Initially, AAG trained the park staff to fuel and drive autogas vehicles safely. Today, AAG still provides annual inspections on the vehicles twice a year.
Much of the success of alternative fuels in National Parks can be attributed to the partnerships between parks and Clean Cities coalitions. Clean Cities started in 1993 by the U.S. Department of Energy to foster the economic, environmental, and energy security of the United States by working locally to advance affordable fuels. In 2010, Clean Cities launched the National Parks Initiative to put alternative fuel vehicles on the road to improve air quality and promote the use of domestic energy sources. The Carl Sandburg Home National Historic Site is one of the many parks partnered with their local Clean Cities coalitions to help clear the air and make their community more "green" through reduced emissions with autogas!
AAG continues to work with National Parks and Clean Cities coalitions to implement sustainable solutions to fuel fleets with a clean, domestic alternative fuel. For additional information regarding clean energy for National Parks, visit HERE.[/vc_column_text][/vc_column][/vc_row]